https://lhcathome.cern.ch/lhcathome/results.php?userid=5472&offset=0&show_names=0&state=6&appid=13
[ERROR] Could not connect to vccs1.cern.ch on port 443
The second time lately only while I am asleep so on the hosts I leave running able to ask for more work these will just keep running Invalids over and over until the server just might stop sending.
I leave all my 8-core hosts loaded with tasks and then not able to get more when this happens since when this happens there could be thousands of these Invalids and that is something I do not ever like to see here.
Of course as usual only VB tasks do this and since I am only running Theory and CMS those are the only ones I have running Invalids.
......and now I go upstairs to see what all my other computers are doing (probably nothing if they lost all those tasks)
Of course if I was just running Sixtracks this would not be happening.
Edit: as I expected.......this is just the first one I have checked so far and it is a good thing I have the four 8-cores set to not get new tasks so they only lost about 30 tasks each......and of course this on each one.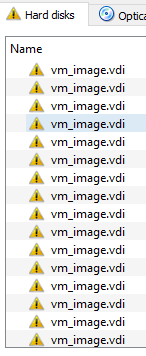 (it should say *Server Error* instead of computer error)
Edit2: well I have them all up and running again and it looks like the server is doing its part this time so I only got 90 Server Error tasks this time.........I will be watching them all day as usual.....so about the next 16 hours.
---
Volunteer Mad Scientist For Life