Just a quick question here, as I cannot remember if it has been covered in previous postings --
Does running the graphical display have any effect on the processing speed of the computer? Has there been any definitive testing wherein a set of units were processed by a machine running the graphics, and then processed again with graphics disabled? If so, what were the results?
Personal thought here - with older machines, I would assume there would be a significant impact, but the newer machines, and machines with high level graphic cards would probably see less impact.
This is just my curiousity acting up, as I run all my machines in the 'as a service' mode, which precludes the operation of the graphics display ...
---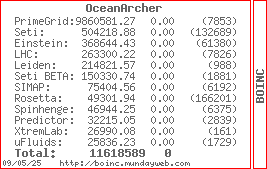 If I've lived this long, I've gotta be that old